LAIA ARQUEROS EXPLORES THE WHIMSICAL DESIGN OF THE GALICIAN CHESTNUT ROASTERS IN LOEWE'S EXHIBITION FOR SOTHEBYS
if you follow Fatale Art since its beginning, you will know that we are in love with Laia Arqueros artworks. We love her sense of humour, her visual signature and her feminist way to play with symbolism. 
And it seems that we are not the only one...
Spanish house Loewe has collaborated with Sotheby's to present its latest Weaves collection that explores artisan-crafted objects including artist-embellished Galician chestnut roasters.
Founded in Spain in 1846, LOEWE is one of the world's major luxury houses. Since 2013, under creative director Jonathan Anderson, the brand has started a new chapter as a house focused on craft and culture, evidenced through an intellectual yet playful approach to fashion, the bold and vibrant Spanish lifestyle and unmatched expertise in leather.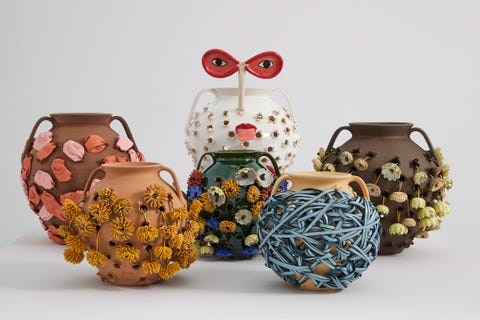 Sotheby's will exhibit a selection of seven artist-embellished chestnut roasters featuring experimental weaving techniques by artists Arko, Min Chen, and Laia Arqueros. 
Three artists featured in the exhibition have reimagined the pots created by a famous potmaster Anotonio Pereira. The pieces will be displayed alongside the pieces of Sotheby's marquee May auctions of Impressionist, Modern and Contemporary Art in New York.